Property Cleanout / Trash Out
Make sure your house looks good for prospective buyers.
Trash Out and Property Cleanout Services
Managing your own property is already a hefty task to take on. Running another property as a landlord or coming onto an estate unexpectedly when a beloved family member passes away are both large projects in themselves.
Our property cleanout & trash service will help you get the space cleaned out without taking up any of your own time. These tasks can be rather time-consuming for someone who has their own family and a full-time job to attend to the majority of the week. We want to help you keep your life running smoothly by taking care of any of your property cleanout needs.
How a Property Cleanout Service Works
We will begin by meeting with you at the property to discuss your specific property cleanout service needs.
We can be ready to take on whatever you throw our way, we just need to see what you need to be cleaned out so we can show up to the job prepared. The items we can remove during a trash out service include sofas, dining room sets, electronics, and even water heaters to just name a few.  All items that you do not want we can donate or dispose of in an environmentally friendly way.
What Properties Do We Cleanout?
Our property clean out service has a wide scope, as far as who we help to clean out their property. We help landlords who have just had a not-so-clean and tidy tenant move out. Those who have just been given the job of taking care of the estate of a recently deceased family member also need our kind of help, to tackle their new property and all items that have come with it.  At times we will even do business with realtors and banks who need a property cleaned out for sale purposes.
Rental Properties
Not all tenants are so courteous to clean out their living space before vacating the property. That's where we can help you. Renting out a home in your home, or an entire home might be a huge source of income for your family.
Taking the time to clean out a property in preparation for a new tenant can be incredibly time-consuming. When your income depends on that new tenant moving in, time is money. Our service will pay for itself when you can get the new tenant moved in a week or two sooner than you might have been able to by taking on this cleanout task yourself.
We will remove furniture, old electronics, and other sorts of left-over debris. We can even remove carpets if you are ready to give your property a fresh new look for the new tenant to come.
Estates and Foreclosures
Gaining or losing property unexpectedly is a very stressful life event, and that's putting it lightly. We offer Miami property cleanout and trash service to help you and your loved ones during these troubling times.
We will come in and remove any unwanted items fast and efficiently. We will begin by setting aside the items that you want to keep. We will then take what is left over to a donation center of your choice or dispose of them in a way that doesn't add to the junk accumulation that the planet is already suffering from.
What you will be left with is a junk-free property and a weight off of your shoulders. We also sweep up behind ourselves once the job is done, seeing the job through from start to finish.
You have your own property, family, and job to worry about every day. Cleaning out furniture and appliances from a property is a lot to add onto your plate. That's what we're here for. Our property clean out and trash out professionals specialize in this field of work. We will have your property cleaned out and ready for the next step in the process fast and efficiently.
You already know that getting rid of all of the junk the previous tenant left yourself is no easy task. It isn't just about getting it all out of the property, you also have to make sure you don't damage it in the process. Our team of trained professionals has performed countless property cleanouts and trash outs. You never know what you'll walk into, but we've seen it all.
We can remove appliances, debris, furniture, carpet, etc.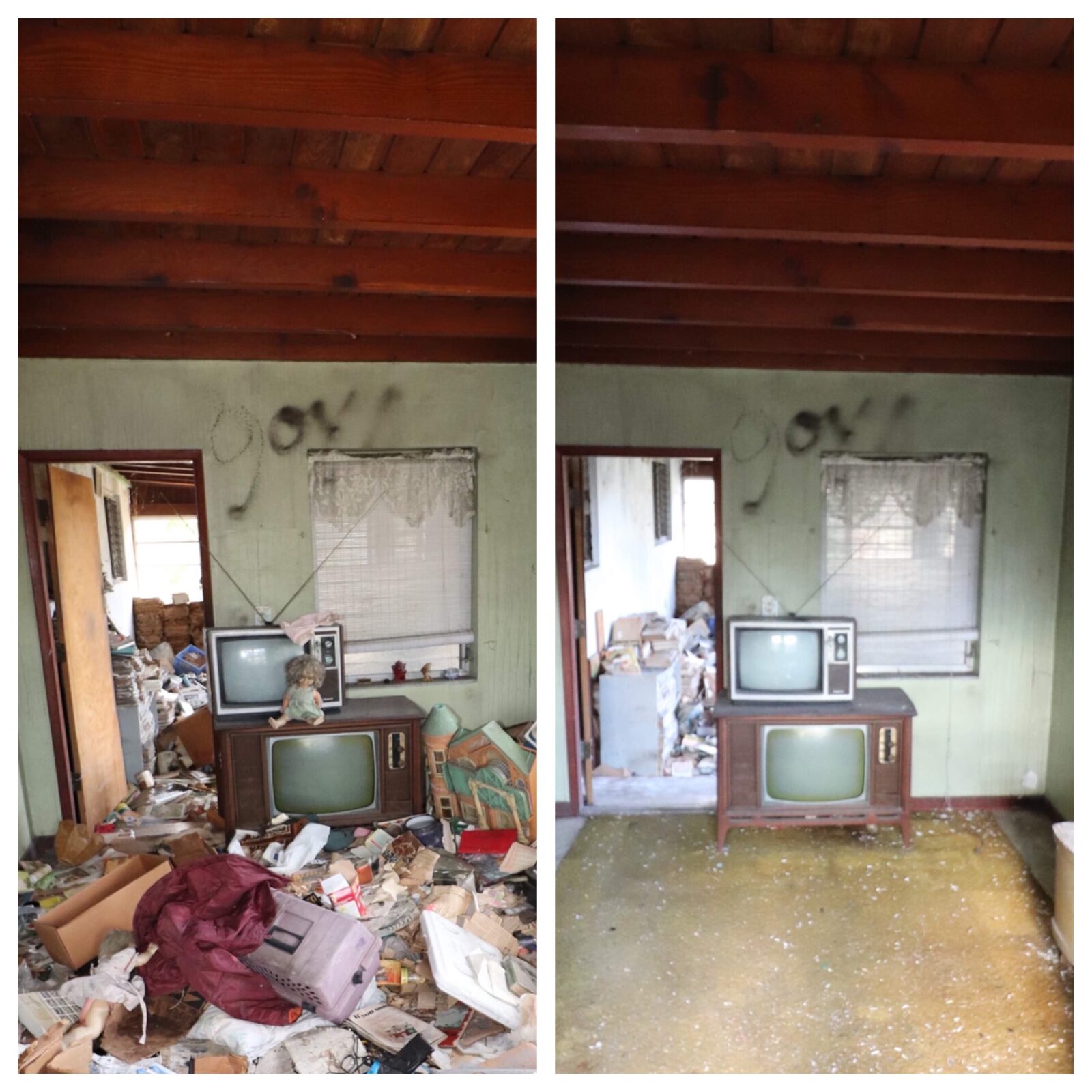 Items we remove during a property trash out